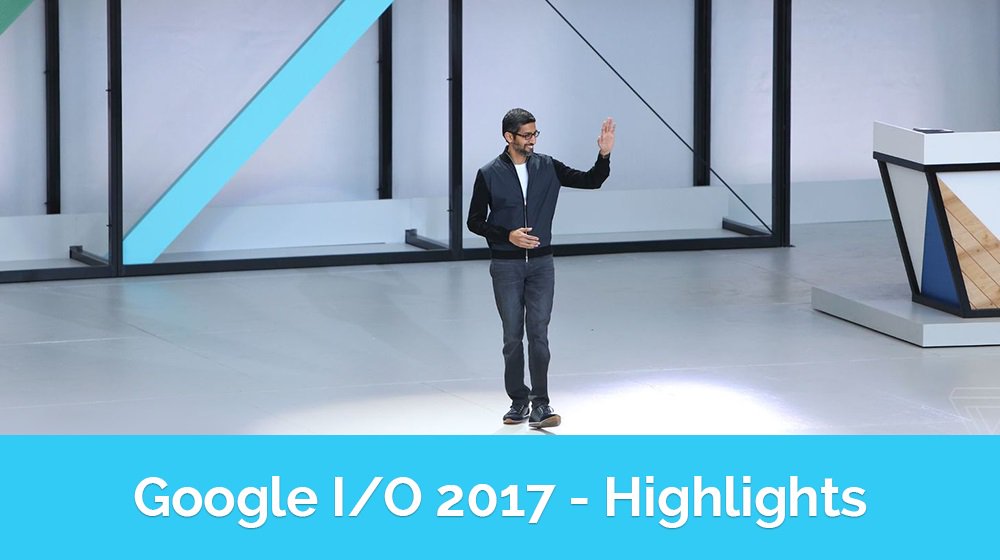 10 Things That Held Our Attention At Google I/O 2017
Google recently concluded Google I/O 2017 – its annual developer conference. It was held at Shoreline Amphitheatre near its headquarters in Mountain View. Google showed off its AI efficiency and all the other marvels it had worked on through the year. Let's now focus on the main takeaways from the conference.
#1 Android O
Android O public beta and Android O developer preview is now available for download. Android O makes the OS more useful. Google has succeeded in optimizing battery life, graphic rendering time, and start-up time. Android O is more stable. Pretty soon you would be able to see a floating video window with different videos lined up for you to click and watch. Expect good things to happen on the notifications front that will make your life easier. Soon tiny dots or badges on icons would tell you if there are notifications waiting for you. Android O, amongst other things brings full support for Bluetooth 5.0.
#2 Android GO
Android GO is a lighter version of Android O. Designed specifically for developing countries, it will provide smoother performance with low data usage on affordable devices. Google will soon have a new set of native Google apps for Android GO which will use less memory and less data. It will also have a different version of Play Store ready which will house apps suitable for GO devices.
#3 Support for Kotlin
At the conference Google announced native support for programming language Kotlin. It is a new language that smoothens some of the issues of Java. It will help solve common issues such as runtime exceptions and source code verbosity. Several apps use Kotlin in patches but now you would be able to natively develop Android apps in Kotlin. You can expect faster fixes and stable codes.
#4 Google Lens
Google is looking at future through Google Lens which is powered by AI. Your computer will now understand your videos and photos. Google lens will help the smartphones understand what they see and they can then take further actions. You can point your camera at a flower and the lens will be able to name that flower for you. If you pointed your camera at your router, Google lens would connect you to the Wi-Fi network after reading the router information from the picture.  This feature is first being added to Google Assistant which opens up a world of possibilities. The lens can help with translations, can clean up your photos too by removing a few elements.
#5 Android Instant Apps
Instant Apps are the apps that can be opened on your phone by clicking on a link. You do not need to download them from the Play Store. Instant apps will make the apps more popular. This project was announced late year and was open to only a select few developers. Google has now opened it up for all the developers. Users will be able to access them from the links on Google Search Results page. Android Studio 3.0 has all the tooling in place for the developers. If you want your existing apps to have this feature, it will take you about four to five weeks to do so.
#6 Smart Reply
Google is bringing the smart reply feature to your android and iPhones in your Gmail app. It is leveraging its machine learning ability to form 3 different responses to emails for you to choose from. Smart reply scans the text of your incoming mails and suggests 3 basic responses for you to tweak and use to reply to the mail. This feature is rolling out in 'English' and soon it will be available in other languages. No human accesses your messages Google assures, personalization is done with the help of AI and your data doesn't leave your device.
#7 Google Assistant
Google Assistant, the AI based voice assistant would now be available on iPhones too. It however is not going to replace Siri anytime soon but iPhone users will now have an option available in Google Assistant.  It would also be available in languages like French, Portuguese, Brazilian, German and more. Google assistant now is more conversational. It can understand the contexts and the natural way of speaking. Google has also rolled out an ability to type to Google Assistant. Users would be able to converse with Google Assistant to discuss what they see on Google lens in addition to its other uses.
#8 Google Home is Your New Landline
Your Google Home device will soon work as your landline phone over Wi-Fi. All you would have to say is "Call Mom" and you would be connected to your mom through a private number. You will be able to ask Home to connect to anyone on your contact list and it will do so. Home will only look up the numbers from the phone of the person whose voice it normally listens to and recognizes. This feature will only be available to Google Home users in US and Canada for now.
Google Home is now your hands free phone enabled with voice calling. Home will be expanding to five new markets this year – Canada, France, Germany, Japan and Australia.
#9 Google's Standalone Virtual Reality Headset
Google has been working on a wireless, self-contained, standalone Virtual Reality headsets. They are probably going to be launched in the later part of this year 2017. Google revealed that it has been working with two tech giants Lenovo and HTC on the said project.
#10 Youtube's SuperChat
Google has announced a new SuperChat API for Youtube. SuperChat allows users to pay a certain amount of money to enable their chats to show up on in the live SuperChat interface during a livestream. The money is paid to send the chats that trigger actions in the real world which are set up by the creators beforehand. Users can pay to pin on the live SuperChat interface. Purchased chat messages remain pinned for up to five hours.