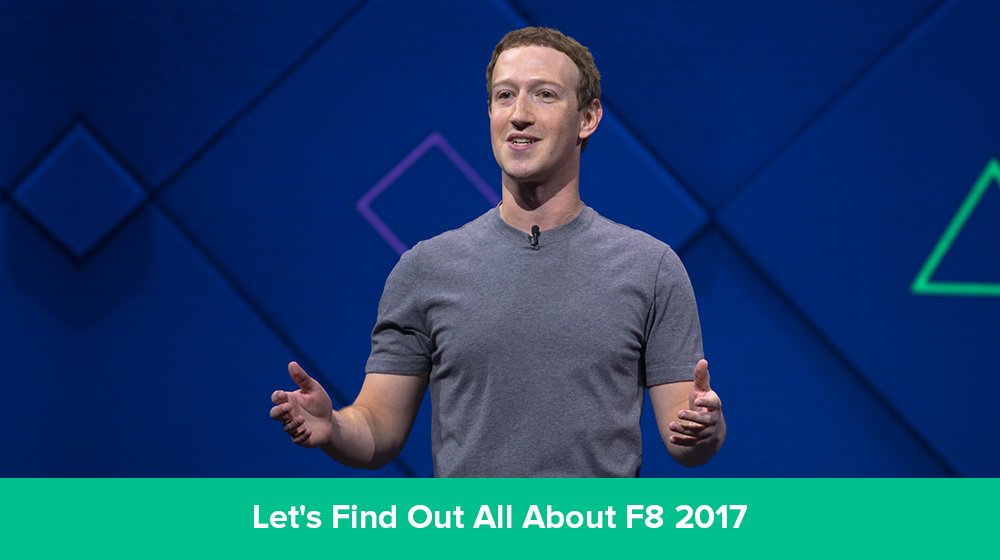 8 Things Facebook Talked About At F8 2017
Facebook recently held its annual developer summit F8 at the McEnery Convention Center in San Jose, California. F8 is Facebook's annual conference for developers and entrepreneurs who come together to learn and discuss Facebook's  new products, capabilities and strategies as they impact the businesses globally and set trends for future. Facebook has been playing quite an impressive role in promoting apps.  Let's find out about the important stuff that held everyone's attention at F8 2017.
#1 Developer Circles
Details about Facebook's Developer Circles were announced at F8. It is a new community driven program that enables the developers from all over the world to connect, learn and collaborate with each other. There are local circles. Developers from the local community act as leads. Developer conferences and events, hackathons take place everywhere but it is tough to maintain the momentum of knowledge sharing between events. Developer's circles help continue the conversations. At developer's circle, one can find new job opportunities, build on new ideas, learn new technologies from industry leaders and more.
#2 Camera Effect Platform
Facebook is taking on Snapchat with its Camera effect platform. The camera features world-class face tracking, 3D rendering and a reactive JavaScript framework. It is powered by an augmented reality (AR) engine. This platform gives powerful tools to artists and developers to shape and stylize the world in new wacky ways. At F8, platform tools like Frame Studio and AR Studio were released for developing AR content. Frame studio helps in making 2D overlays and AR Studio helps in creating 3D masks that tracks and responds to facial movements.
#3 Facebook Spaces
Facebook Space is a place where your virtual self can hang out with the virtual selves of other people. It is a virtual reality app that helps you be in the virtual hangout with the help of headsets. It would be like you are with your friends in the same room. You can be on International Space Station or you can sit around a VR campfire. This app has been launched as a beta on Oculus gear.
#4 Facebook Analytics
Facebook Analytics is a powerful, free product for marketers that helps in accessing different audience demographics and aids in measuring customer behaviour across channels. At F8 conference new capabilities were announced to help marketers optimize the experiences for the customers. Omni – channel analytics for pages and automated insights promise better analysis.
New analytical capabilities include the use of advanced machine learning and artificial intelligence that would provide you insights automatically. You would now be able to gain much more insight about your customer. You would be able to see how new version of your app has been performing in comparison with the old one. You can also see how people in different cities engage with your app. Users can now have custom dashboards where in they can pin the reports that are most useful to them. They can create custom audiences based on people's behaviour across your app, website and bot.
#5 Places Graph
Places Graph, a set of APIs was launched by Facebook at F8 conference to enable the developers to help create location aware experiences for people. Through Places Graph  Facebook provides free access to data on more than 140 million places around the world. There is plenty of useful data on stores, restaurants, public spaces, parks and local businesses. Developers can get the names of the places, addresses, photos, ratings and more to use in their apps.  It enables search for places, location sharing, geo-tagging and more. It is built on Graph API. Android and iOS SDK for Places Graph are available for use.
#6 Unique Identity
Enhancements in Facebook Login and Account kit will now make it simpler for developers to identify the person both from the app and from the Messenger bot. The new Identity API allows the developers to map between a Facebook Login ID and a Messenger ID so that they are able to confirm the ID and are able to provide better experience to the customer every way.
#7 Facebook Messenger Platform 2.0
Facebook Messenger is evolving. Though it is just a year old, its ecosystem has more than 1.2 billion people. More than two billion messages are being sent on Messenger every month. There are about 100,000 developers involved with the platform. There are about 100,000 active bots. There have been quite a few updates with new features.
Discover Tab: This tab will help people browse intuitively and find the bots, businesses and places in Messenger. Discover includes different categories like News, Entertainment, Food & Drink and many more.
Parametric Messenger Codes: Messenger Codes drive traffic to bots. With the help of Parametric versions, businesses can generate multiple messenger codes which can then be analysed to see which ones are most popular and are being scanned the most. Different codes can be used to activate different bot functionalities.
Chat Extensions: Chat extensions contextually bring a bot into a conversation for further collaboration within a session.
Smart Replies: This feature of automatic replies can be turned on by Facebook Page admins. It is a pretty handy tool to engage with prospects when you or your team cannot be there personally to answer the general- frequently asked questions.
#8 Facebook Games
There are more than 1.86 billion people who are interested in Facebook Games. Facebook has been seriously working on giving the game app developers a big platform. It now has given the developers more control through Instant Games. They can utilize more screen space and incorporate useful APIs like Share 7 Connected Player APIs. Through game bots developers can create customized messages and develop out-of-game features for players in Instant Games. There is a new Gameroom Platform SDK which is Facebook's new desktop gaming platform with more than one thousand games from more than ten different categories. Games built on different engines like Unreal Engine, Cocos2d and more can be easily ported to Facebook's Gameroom. There will soon be a games tab to help the players discover games.