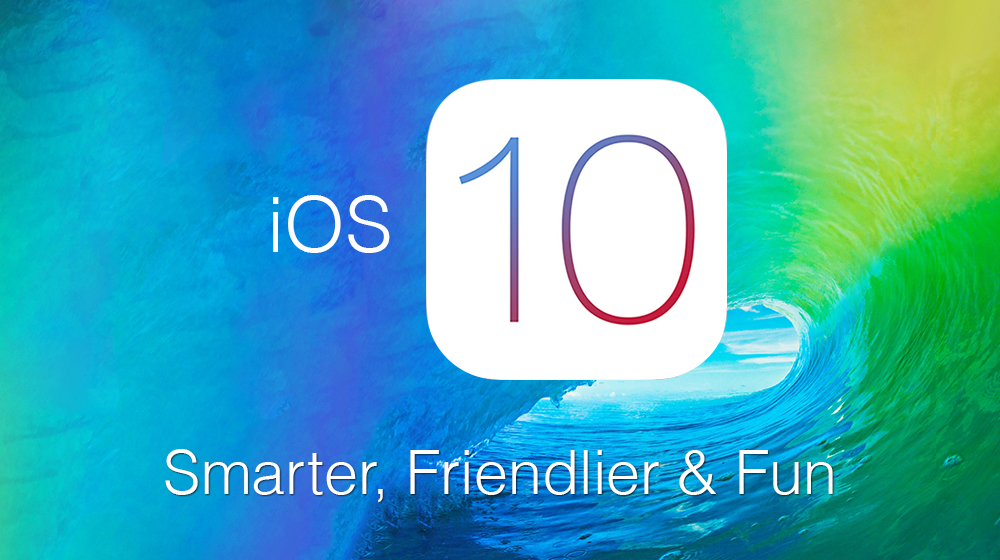 Everything You Need to Know About iOS 10
Apple announced iOS 10 update for iPhones and iPads at the recently concluded Apple's Worldwide Developer Conference (WWDC) 2016. It will be duly released in fall. Its features have created a predictable buzz in the mobile industry. Let's look at some of the features that were announced.
#1 Raise to wake:
Got a few seconds to check the notifications on your phone? In a super easy way? Without touching your home button? Apple's got you covered. It now has a 'Raise to Wake' feature. The accelerometer in iOS 10 responds and wakes the phone up by lighting it up and showing your notifications as soon as you pick the phone and raise it. Some users felt that earlier versions of iOS with hyper-efficient Touch ID feature on iphone6S and 6S plus never gave them a chance to view notifications. A touch was all it took to take the users from locked screen to home screen – directly. With Raise to wake they can see the notifications and engage if they so choose.
#2 Use apps through widgets:
With the convenience of 3D Touch-enabled home screen widgets you can sidestep opening the apps completely. iOS 10 provides quick shortcuts to some of the most used functions in apps. The iPhone's lock screen will display data and notifications from the apps. Apple's users now can receive data from apps and can respond to notification from the lock screen without unlocking the device. It is the magic of 3D Touch that facilitates it.
#3 New Home App:
iOS 10 puts Apple's Home App on iPhone's home screen. This dedicated Home app controls all the appliances that are compatible with HomeKit. When you click on HomeKit you would be able to see all HomeKit compatible accessories which can all be controlled from the same hub. Home has several useful features. The feature called 'scenes' has customised series of commands for different accessories feeded into it which can be activated with a single tap. If the user is ready for bed he chooses 'Goodnight' button and all the doors get shut, thermostat gets adjusted, curtains are drawn. Tapping on a 'Goodmorning' button would get the home and thermostat ready for the morning.
#4 Updated Map App
Maps have been redesigned to make them more useful and intuitive. Maps have opened up to developers. Book an Uber or use OpenTable to integrate bookings into the map with the help of extensions.
#5 Updated Apple Music App
Apple Music has been updated too. Interface has been changed, it is simpler and the design is clean. It has a 'Library' tab where you can store your playlists, search for artists and albums and downloaded music. 'For You' tab now has a discovery mix to help you discover new music. It also has a daily curated playlist designed for you and a place for you to see what your favourite artists are posting. Browse tab lets you browse through top charts, different genres, curated music etc. Radio tab is live in more than 100 countries. 'Now Playing' tab has Album's Cover Art, previous button, play/pause buttons, next button and a volume slider. When you scroll down you can see the new lyrics feature – you can now read the lyrics of the song which is being played and sing along.
#6 Updated Photo App:
Apple's Photo App has gotten smarter. It now uses local, on device facial recognition and AI detection of what's in your photos. It will now be possible to sort images by events, people, places (e.g. having all the photos of the beaches together) and dates.  Newly added "memories" tab will be able to provide you doses of nostalgia. It can go through your photos and videos on the App and make micro movies with transitions and soundtrack.
#7 Updated Phone App:
There has been a very interesting development with Apple's phone App. It will now get voicemail transcription. Your voice mail will now be converted into text for you so that you can glance at it at your leisure. Apple is working with third parties to ensure the users are able to avoid spammers.
#8 Additions to iMessage:
Apple's iMessage has new features. It has deep links. You can send and play songs. You can send a video link and play a video in the chat. There is increase in the size of emojis. They will appear 3 times larger. Automatic suggestions will enable you to replace specific words with emojis. Texts such as 'Happy Birthday' or 'Congrats' will have the whole screen animated – covered with floating virtual balloons, confetti or fireworks. There are several stickers that can be used. Apple now wants third parties to make and sell stickers on iMessage. There is another newly incorporated feature called invisible ink where you send an image or a picture that looks obscured with scattered dots until swiped over by the receiver or the sender. You can send handwritten notes too.
Apple is trying to position iMessage as a platform for third party integrations. iMessage has an app drawer from where you can access services such as square to send money, shop for goodies or order food if you want. More services will soon be integrated within iMessage.
#9 Built-in Apps can be deleted:
With iOS 10 you can remove some of the built-in apps from Home screen. When you remove the app you remove related user data and configuration files too. Apps like Calculator, Calendar, Compass, iBooks, Podcasts, Reminders, Stocks, Tips etc. can be removed from Home screen. You can find the complete list of apps that can be deleted here. Apple however warns that deleting some of the built-in apps can affect some related system functions. If affected, uninstalled apps can easily be installed back again.
#10 Updated Siri:
The iPhone voice assistant Siri is growing up. It now has been opened to third party developers. You will be able to activate non-Apple apps which support Siri with the help of your voice. Soon it would be possible to instruct Siri to send a Wechat message to your friend John or Skype to your co-worker Melissa. Apps like Uber, Lyft, Shutterfly, WhatsApp, Runkeeper, Pinterest and many more will be supported by Siri.
It will soon be launching on Mac.