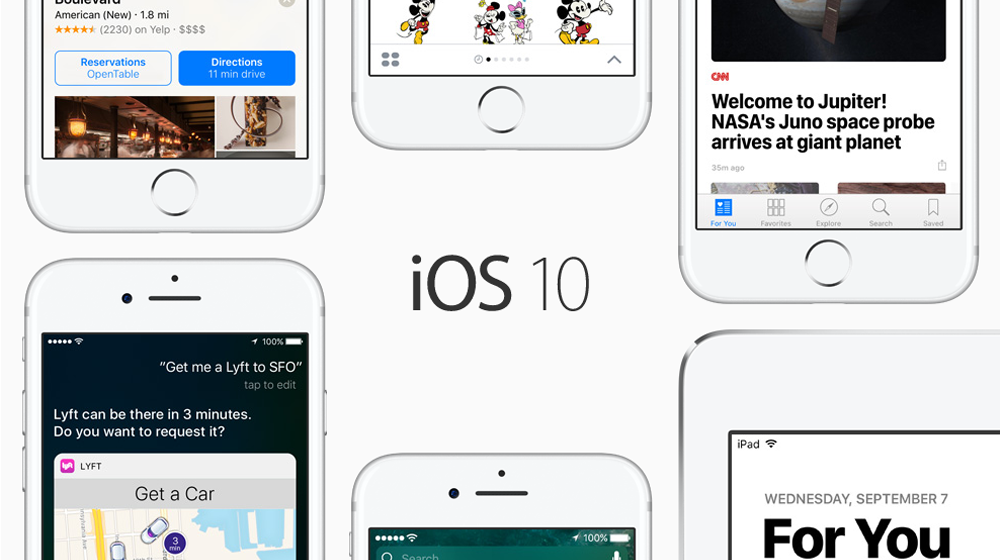 iOS 10 A Complete Walkthrough + A Developer's Take On The Newest Apple Operating System Release
It's official! Apple iOS 10 was released as Apple announced at its iPhone 7 launch event on 7 September.
iOS 10, Apple's latest mobile operating system software for iPad & iPhone, was announced at WWDC 2016 in San Francisco on 13th June 2016. Since then Apple has released a series of beta versions of iOS 10 for developers and the final public version was released on 13th September to iPhone 5 and later and the iPad mini 2, iPad 4, iPad Air and later generations.
Here are the new operating system features in iOS 10 you can enjoy the most. This year Apple focused on 10 new, redesigned or tweaked areas of iOS 10's feature set.
A complete redesign system and user experience
Apple redesigned the experience of the lock screen. You were used to swipe to unlock your iPhone? Well, now the swipe unlocking doesn't exist anymore. But before we get to that, there's a new feature that will mean you'll see more of the lock screen. The lock screen was completely redesigned. Control Center has been redesigned too. Now you have multiple screens, so if you swipe left you get to a special section where you can add customizable widgets. And the nicest thing is that you can add third-party widgets. If you swipe from the right in the lock screen you'll bring up the camera.
Till now with the faster second-gen Touch ID fingerprint sensor in the iPhone 6s and 6s Plus, there was a tendency to hit the Home button and blast straight to the Home screen, But Apple has something new which will really surprise you. Raise to Wake feature, which makes the iPhone light up, and open the Home screen or Lock screen if you have a pass-code, when you lift it up.
Everything has become much more interactive, also some of the sounds have been changed. There are now lots of 3D Touch shortcuts that let you respond to notifications in clever ways without leaving the lock screen, and plenty of dynamic features that can happen in the notification itself.
You can accept invitations, respond to messages, and stay in a messages thread, live, all on the lock screen. You can see live animated progress of your Uber driver after 3D Touching an Uber notification. And – exactly like on the Apple Watch – you can do 3D Touch press and then clear all notifications.
Siri Voice Assistant
'Siri is opened to third party apps. Now you could already search on web, make reservations, search on map, start a trip. Users can expect from this more opened Siri to give them the possibility to do things that they were already doing but now with their favorite apps.
Here is a non-exhaustive list of what users could ask an app to do: search for photos, make a call, give directions to a location, start and end a workout session, change the radio in the car, send a message, change the ventilation, defroster, audio source in the car, make a payment etc. In addition to the new Siri developers got a new speech recognition framework. They can send as input a live feed from the phone's microphone or an audio file. Some very nice ideas which could be implemented over this new framework could be a storytelling app which creates a story based on the user's questions. A more helpful app could be an app which serves as a guide for tourists or even blind people in which the interface (the method through which someone is using the app) could be their own voice.' (Sebastian Sarca – iOS Developer at Mobiversal)
QuickType
QuickType is pretty handy and a genuine time-saver tool for typing. What's more, QuickType is going to become more proactive at bringing data from other apps and offering it as part of your responses. It has support for multilingual typing – in other words, not in just one language or another, but in a blend of the two.
Photos
Photos has been "updated" with artificial intelligence. Apple says it will use deep learning techniques to analyze faces, places and objects and use it to build smart albums for you.
Photos can draw together linked photos and videos by place, people and time, and automatically create highlight reels and trip mementos; Apple calls this 'Memories'. It does quite similar like what Google Photos already do. Also a nice thing is that you can choose your memories duration and mood (eg: Dreamy, Sentimental, Gentle etc) and a whole new video will be generated based on these two parameters. You can also edit this "automagically" made video. You can choose the music / photos/videos / duration / title.
Maps
Maps gets a new design in iOS 10. Apple says the controls are easier to access. You remember the first update of Maps in iPhone 6 and 6 Plus? It was a challenge to use and the terrain maps weren't the best.
Maps now does more in advance, with the proactive elements. Slide upwards from the bottom of Maps and you get suggested destinations such as work, home, places you loved. Another location may be drawn from a calendar appointment for this time.
Like what Google Maps does, Apple Maps in iOS 10 takes traffic into account dynamically, and offers alternative routes on the fly if traffic makes them preferable. Unlike Google Maps its interface will zoom in and out cleverly, depending on the distance to the next turning and other factors.
Apple, added access to third party developers here too. You now can make a reservation for a ticket to the theater/cinema and reserve a room in a hotel and make a restaurant reservation without even leaving the Maps app. Of course all the above are possible only if developers will adopt this new feature.
Music
Apple Music has a major visual redesign – and trust me, it looks better. With the new update you can have the lyrics of the song you love.
Better still, whilst taking Live Photos, your music will continue playing – allowing you to have uninterrupted music sessions.
On July 19th, Apple replaced the 'Downloads' section with 'Downloaded Music' within the Music app.
News
Of course, most of us are not using the news app from iPhone. But now probably you'll change your mind. Apple News has been redesigned – like the other apps here, it becomes cleaner and simpler. Apple has added subscriptions in News.
Now there is also a 'Breaking news' notifications from the app. You can toggle the feature from the app's settings and even custom-tune the publications you wish to see push notifications to your device.
You can access paid subscriptions, where you can read an unlimited amount of articles from various publications. There is also a widget for the News app, but given that it's still in beta expect it to be a little rough around the edges and only provide basic functionalities.
"For You" features all of the topics a user follows along with "Trending News," featuring current popular stories, and "Featured News," a section with news suggestions hand-picked by Apple's editors. There are easier tools for sharing, liking, and disliking news stories, accessible by swiping to the left or the right on the screen. – MacRumors
HomeKit & new Home app
Apple is getting serious about smart homes, launching a dedicated app, Home, for controlling all the appliances that are compatible with HomeKit.
If you open up Home, you'll see all your HomeKit-compatible accessories, no matter which company makes them, and you can easily control them all from one hub. Many of these will have 3D Touch shortcuts: you can force-tap and slide on a dimmer app, for instance, to adjust light levels.
There are some really nice features in Home. One is called Scenes, which is effectively a pre-customized set of adjustments across a range of accessories that you can activate with a single tap or Siri command.
Home will be built into iOS's Control Centre, and Home notifications will be interactive – Apple demonstrated a door notification that can be 3D Touched, bringing up a live feed of the door camera and the ability to unlock the door.
On July 19th, Apple organized the 'Accessories' option found within the Control Panel of the HomeKit app.
Phone
The all-important but often neglected Phone app gets a single big enhancement: voicemail transcription. iOS will convert speech into text so you can glance through a voicemail without having to listen to it. Will be great if it's accurate enough.
One other update: Apple has pledged to work with third parties to provide more information about known voicemail spammers, so you can be warned when one is ringing.
Messages
An important update for what Apple pointed out is the most frequently used app in iOS.
You'll be able to use rich links in Messages. Share a link and, as it would in Slack or Twitter, artwork and a precis of the article may be pulled in, so your friends can get an idea of the gist without having to click.
Emoji will be three times the size, and emoji will be incorporated into predictive text: bad news for those who are sick of all the emoji in messages they get from iPhone-owning mates. In fact, it goes even further: Messages can scan a message you're about to send and highlight all the words that could be replaced with emoji.  Tap them one by one and they'll transform into the appropriate pictures. You'll be able to add various bubble effects to your messages, too.
"Messages have been opened to third party developers. They can create stickers you can download and add in your messages. There's also a new Store for this stickers." said Sebastian Sarca, iOS developer at Mobiversal.
You can make a message come up in 'invisible ink', which means it's blurred out until the recipient swipes across it with a finger. This is designed for situations when you want to surprise someone with a nice message and want to delay the moment of gratification for a little longer.
As a bonus for our readers here are some other updates you'll enjoy.
You are tired of preinstalled apps that you are not using and you can't delete it? From now on Apple will let you delete preinstalled Apps.
Apple didn't mention this in the keynote presentation for obvious reasons – it doesn't want to highlight the fact that users have been crying out for the ability to delete Apple apps.
It's worth pointing out that the apps aren't really "deleted" in the strict sense; all that happens is the app icon is hidden, links to functions like Siri are temporarily severed, and user data associated with the app is deleted. But the app itself remains on your system, hidden from your view.
Amusingly, if you want to bring back the app after deleting it, iOS forces you to go through the charade of visiting the App Store, finding the app and 'redownloading it' – but really this could have been accomplished by just flipping a toggle switch in Settings. Apple does it this way in order to keep the user experience consistent and of course, could be a really good marketing tool you can use.
You thought that you need to hire a good photographer to take some pictures on your holiday? You thought that you can't be as good as them? A great update for the camera app. From now you can take RAW images. "This and the new Apis for developers means there will be apps in which you could will have desktop level editing on the iDevices." said Sebastian Sarca, iOS developer at Mobiversal.
If you've got an iPhone 6s, iPhone 6s Plus, iPhone SE or 9.7-inch iPad Pro, there's good news: you're going to get the option to take RAW images, meaning captured images will offer a lot more level of detail for those wanting to professionally edit the photos. Keep in mind that the RAW images will be bigger in file size.
The RAW images functionality will only be available through the rear-facing camera and you won't be able to use image stabilization.
Some other new features:
You'll now be able to enable or disable the read receipts that were introduced back in iOS 7 on an individual basis. Currently you can only universally change it, but now you'll be able to change it per contact or group.
There are very slight changes to the app and folder animations, which make the folders in your app drawer zoom in to the center of the screen, rather than the folder's location on your screen.
Live Photos now feature image stabilization, which will hopefully help make the images a little clearer.
The default Clock app now has a Wake Alarm and Bedtime feature. As well as waking you up, you can choose to be reminded when it's time to go to sleep in order for you to get your desired hours of rest.
Game Center is no more, and has been completely removed from the default stock apps – this is the result of apparently less than 1% of people actually using it.
The Safari app has also received some love, with the mobile browser now having the ability to open unlimited tabs, whereas in iOS 9 you could only open 36 tabs. Speaking about tabs, you can now close all tabs, rather than individually going through each tab and closing it – a useful feature for those who tend to leave many tabs open at once. To do this in the new iOS 10, tap and hold on the new Tab button within Safari and you'll be presented to close all your Tabs at once.
Within Safari, you can also play in-line videos without having to watch the video in fullscreen mode. This simple functionality allows you to continue reading the given article, whilst having a video play in the background.
You can now clear all of your notifications within the Notification Center, allowing you to quickly clear those Instagram likes or messages.
3D Touch can be used to rename folders, control downloads and have Siri suggest recommended apps.
You thought I'm done? Our iOS developer Sebastian Sarca will tell us more from a developer's perspective what is iOS 10 bringing to the table. Here's what he had to say:
"Developers got a new framework through which the new features can be easier handled by developers. This framework is called UserNotifications.framework and it opened a path to richer, more user friendly, notifications. Developers can now listen for the notifications and attach content and modify the aspect of them before the user sees them. This content can be a video, an image, a map location and even a custom chat interface. Developers can send notifications when the phone entered a specified location or an arbitrary date was reached.
Neural networks and machine learning is heavily used in iOS 10 and developers have access to it too. Apple used this sort of AI in many places. They look what apps you use the most, they read your mails and learn about you and your schedule, they analyze your photos and videos and construct a video from them, they know where you parked your car. They are doing this because they want to make your life easier. They are trying hard to guess when you need some information so they provide it to you right when you start thinking about it.
Because Apple enabled every developer to use these powerful tools (neural networks and machine learning) apps will get smarter too. Some apps already use this sort of Ai. One example is Facebook which gives you a personalized feed and different ads, depending on your interests. Another example could be an app which let you film something and tells you the object you're filming.
Messages app is now open too. Developers can create customized stickers which can be used by users or create a custom interface which can be used within Messages app. iPad Pro introduced a new True Tone display which adapts its colors depending on the light captured by the proximity sensor. Photo editing apps can use this feature to show a better looking photo. Also the underlying colors in the iOS system now supports sRGB which means that the colors will be richer on a device with a wide color display.
Developers got access to Apple Pay. They can integrate this in a website or on iOS or watchOS. Also calling apps can use the default iOS calling screen. This gives a consistency for the iOS system.
These are features that are introduced from iOS 10 onwards. But Apple engineers added some changes to the "old" frameworks too. In the AVFoundation framework the system automatically chooses which camera to use (one or both) on the iPhone 7Plus based on the light levels, zoom and other conditions. Developers can opt to use only the new telephoto camera or the normal one depending on the app's needs. Because of the live photos and the RAW images Apple introduced a new api which gives a more compacted and customizable interface for manual shootings.
On the media side there is a long awaited auto-looping feature which auto re-plays a video/audio. In Core Image some new helper methods were introduced which helps handling the new RAW images. Also there are 5 new filters and some methods through which developers can create a custom filter and edit images easier.
Core Motion has learned about pedometer events. Developers will know with a high accuracy and a very small latency when users walk, run or stopped walking/running.
Now Apple introduced new units conversion utilities which needed to be created by developers. Game developers got access to some new features which consists in path finding, strategist and world generation and simulation algorithms.
Home Kit learned about new accessories like webcams, doorbells, garage doors. It can capture a live video, take pictures, or it can change the settings for the camera, the volume and microphone.
UIKit got a new object based animations framework. Tab bars can now have customized badges. Collection view and table view got a new prefetching api which will be very helpful. Many developers have to wait to fully use these new features until the minimum deployment will be iOS 10 but there are some exceptions which will use these new features baked in only for iOS 10 and later users.
One of this developers is @shu223 who made a very nice collection of iOS 10 capabilities. It can be found at this link "
Back to you know, what's getting you excited about iOS 10? Please let us know in comments.