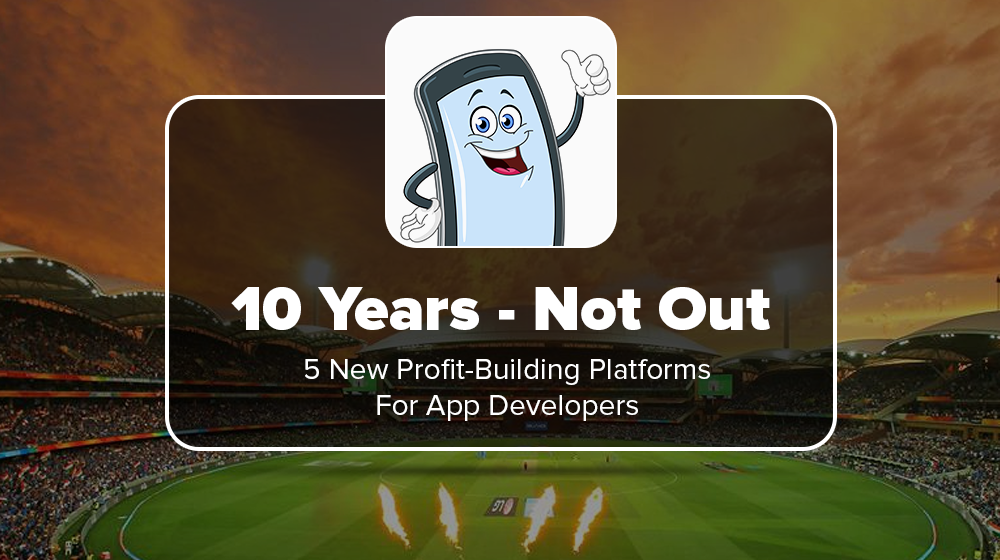 Is the App Industry Down and Out? Not by a Long Shot
The app Industry is dying.
Mind you, this is no sweeping generalization.
The fact has been testified by a Tech Crunch article that clearly states that app gold rush is over. And that many app categories are now growing at the expense of others.
Regardless of the growing concern that app industry is dying, the fact is, there's still a lot of development juice left in apps. And its the new developer platforms such as wearable tech, IOT, chatbots, VR and AR and more that could be fueling the growth of this sector.
But before we walk you through in detail on how these new sectors are contributing to the growth of the app sector, let's first take you through some incredible stats and facts that highlight the journey of apps in the last 10 years.
For those who don't have the patience to go through the entire content, here's a shortcut.
The App Journey – 2008 to 2016
The app is a commodity that's available in remarkably greater supply. There are over 3 million apps crowding the app stores today. But then, sadly most of them are dud apps that lie 6 feet under – unused, unwanted and uncared for.
Only a few are reckoned to be the movers and shakers of the industry. These include Facebook, Facebook Messenger, YouTube, Google Maps, to name a few.
But then, just two years back the industry was at its peak.
It seems like yesterday when the App Store got launched with 552 apps on its virtual shelves. (The App Store was launched on July 10 2008.) Within the first weekend of its opening, the store saw over 10 million app downloads. In the next three months, it surpassed 100 million downloads, and in yet another three month period it touched a whopping 500 million app downloads.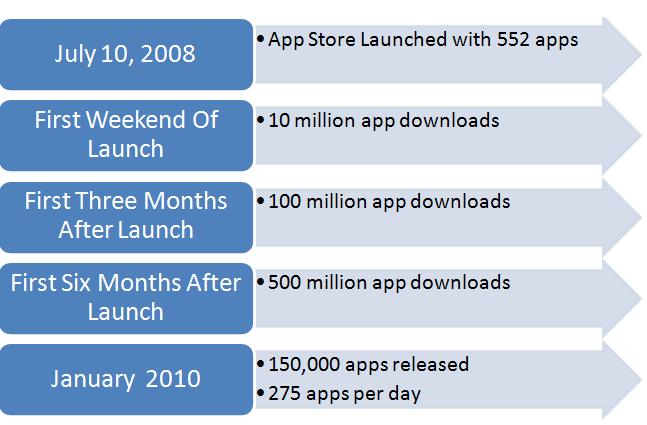 Some apps like Sega's Super Monkey Ball hit 300,000 downloads, netting Sega $3 million within the first month of app launch.
By the end of 2008 Facebook was the most downloaded app of the year, with 5 million downloads.
By January 2010, almost 150,000 apps were released. That came to 275 apps per day.
By 2014, the overall mobile app usage grew by 76%  powered by Shopping, Utilities, Productivity and Messaging apps. 2014 was also the year when apps were used more for business purposes, and more importantly, retail apps entered the arena.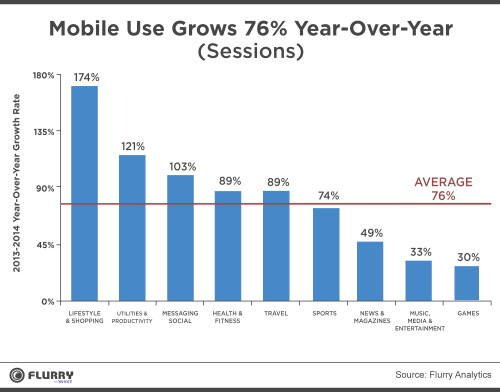 By 2015 – App usage grew by 58% across all categories except game apps
Personalization, News & Magazines and Productivity led the way with triple-digit growth.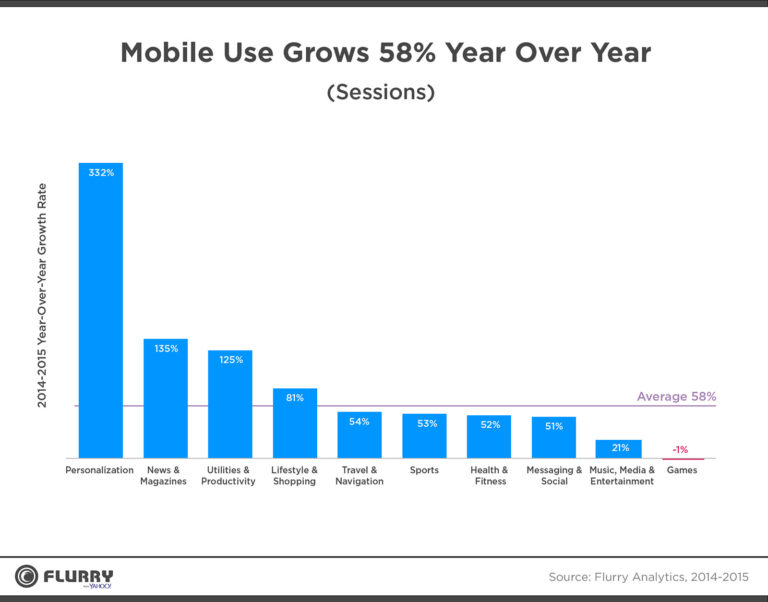 By 2016 – Overall app usage grew by 11% year-over-year
Social and messaging apps drove year-over-year session growth at 44%. But then, by this time the industry had matured and many app categories were growing at the expense of others. As you can see in the graph below Social and Messaging apps grew at the expense of the personalization category. The latter suffered a staggering 46% loss in session usage. It was apparent, users had lost interest in personalization apps resulting in higher uninstall rates.
Even game apps lost their pull. Sometimes a Clash of Clan or Pokemon popped out of nowhere and it seemed the industry is gaining back its lost ground. But then again, things were back to square one in no time.
Even other app categories were showing minuscule growth – be it news, magazines, music, media,  entertainment, utilities or productivity apps.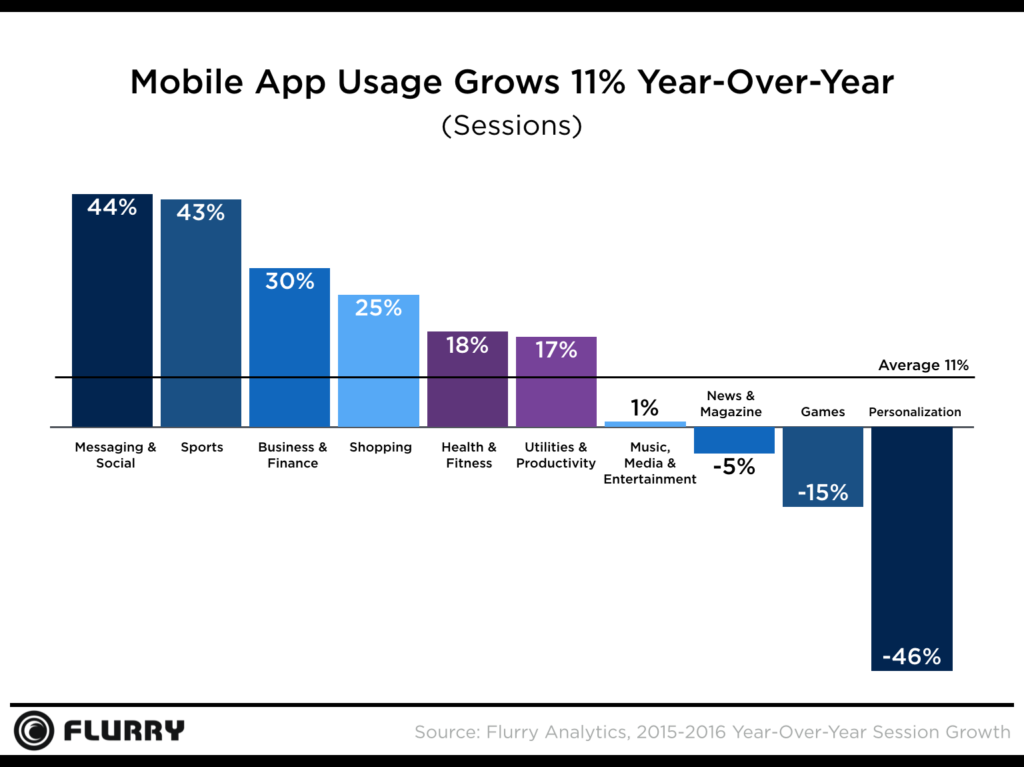 Now the big question that started worrying the app developers: What had suddenly gone wrong with the app industry?
The answer was nothing and everything.
For one, people took the Apple punchline,'There Is an App for that,' literally and developed apps in colossal numbers. Soon apps become the heart of the industry. They become the anchor of human lives.  For shopping, messaging, movies, for anything and everything, apps were being made.  The app development companies had turned into a wish-granting factory. Nothing could ever go wrong with the app industry it seemed for apps had become a way of life.
But then, that's where the real problem started. Overabundance becomes the norm, paving way for low-value apps or inferior apps. Obviously, the uninstall rates skyrocketed. Personalization apps suffered the biggest blow followed by News and Magazine, Games, Music, Media and Entertainment, Utility and Productivity, among many others. According to Forrester, people deleted 80% of their apps after their first use.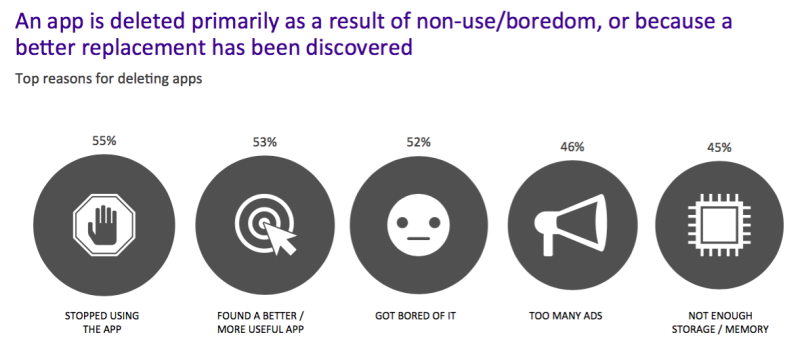 And these uninstall rates is putting the industry under serious pressure, what with millions of dollars spent on developing them.
On the other hand, even app stores were deleting outdated and abandoned apps. According to Sensor Tower in October nearly 47,300 apps were removed from the app store. This was in addition to the monthly average of 14,000 apps removed for the months of January through September.
And there was Gartner's report as well that said,"Most mobile applications are not generating profits and that many mobile apps are not designed to generate revenue, but rather are used to build brand recognition and product awareness or are just for fun. Application designers who do not recognize this may find profits elusive."
So how to tackle these growing concerns of an ever-growing number of app uninstalls, app deletions, low-value apps, and to top it all, clone apps that were literally running a roughshod over the app industry. Simple. Develop apps for 5 of these new profit-building developer platforms.
Top 5 New Profit-Building Platforms For App Developers
Platform 1 : IOT
According to business insider, 34 million devices will be connected to the internet by 2020. That means, every human will have 4 devices, to say the least.
Gartner is predicting $2.5M per minute in IoT spending and nearly 1M new IoT devices to be sold every hour by 2021.
In short, IOT will be revolutionizing our homes, businesses, cities and more. Its good news for the app industry because apps would be driving the IOT sector that's gonna cover every inch of the earth in the coming years.
Platform 2: AR and VR
According to Gartner, 1 in 5 leading global retail giants will be using augmented reality to support shopping experience this year. That translates to 20% of the retail market experimenting with AR to up-sell, cross-sell, while customers could use it to try on clothing or even sample makeup before buying.
By 2020, 100 million consumers will shop in augmented reality.
Talking about VR, top fashion houses like Topshop and John Lewis are already experimenting with VR.  Marketers should devise newer ways to use VR technology. For instance, real estate agents could use it for virtual house tours. VR roller coasters could be used to display space battles, and greater immersion in online gaming.  Most importantly, with facebook acquiring Oculus VR for over $2 billion a boom in VR technology is on the cards.
Platform 3: Chatbots
Facebook messenger leads the bot race with 11,000 bots.  And thanks to various bot development technologies available in the market today, 2017 is predicted to be a chatbot year. But if you think bots could wipe out the app race completely, think again. Communication is central to the bot technology, which even multipurpose, extensible apps are capable of.
Platform 4:  Wearable Tech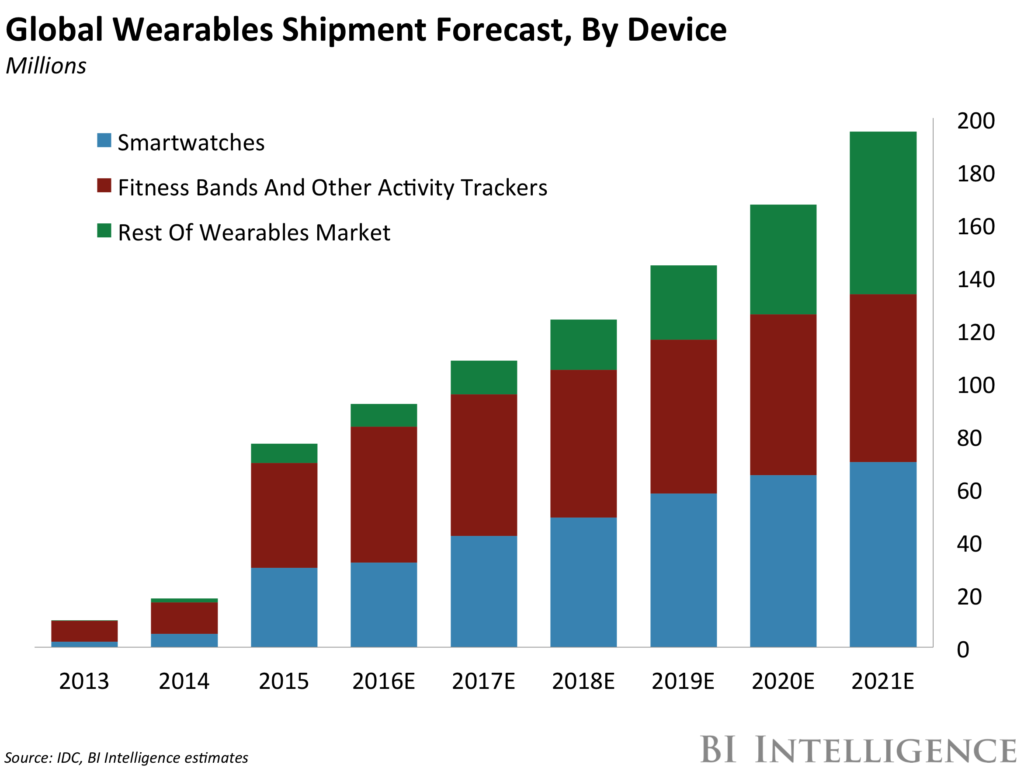 Wearables are a rage, thanks to popular wearable devices such as Fitbit Wristbands, Samsung Galaxy Gear, Pebble Smartwatch, Explorer version of Google Glass, in addition to Sony's recently filed patent for a smart contact lens that could record and store video at the blink of an eye.
All these wearable devices are proving to be perfect platforms for app developers to work on.
Platform 5: Screenless Devices
New screenless devices such as Apple's AirPods, Google Home, and Amazon's Echo and more will be powered by voice-driven apps. The biggest plus of these devices is that you don't have to sit and search for things. Your voice is enough.  And it will help you find relevant answers for all your searches.  As per Gartner predictions, room-based screenless devices such as Amazon Echo and Google Home will be in more than 10M homes.
Final Thoughts:
Regardless of the growing concerns about the future of app industry, the thinktank of OpenXcell, a leading mobile app development company, strongly feels that apps still have a lot of life left in them, it's just that app developers should know how to align their skills with market requirements.
The sun is not really shining on the app industry. But then, sunset not really around the corner. The app is the single most important invention after TV, Web and Smartphones. It's here to stay for the next decade, to say the least.