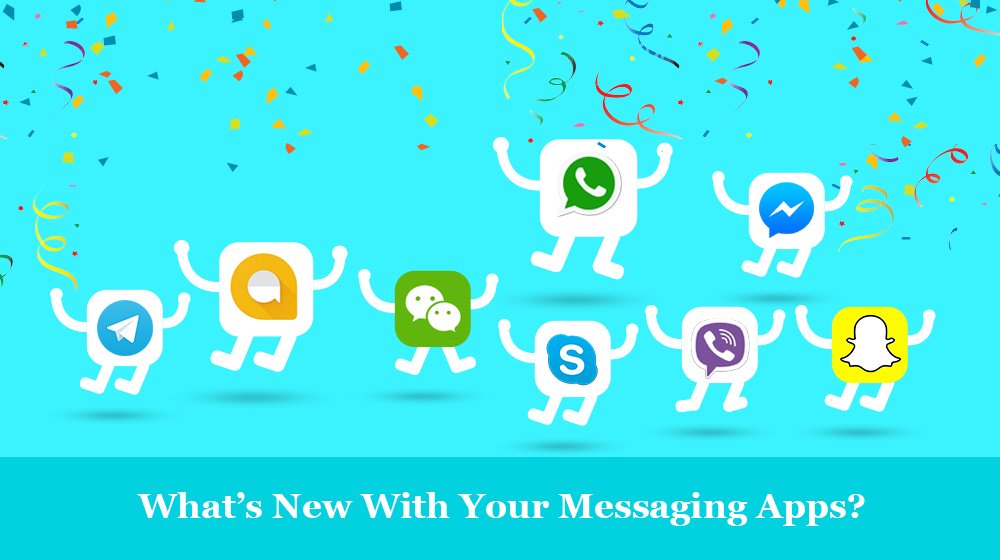 What's New Features and Updates With Your Messaging Apps?
Messaging Apps around us are evolving. Each day there are new features and updates generally based on user feedback. Your favorite messaging apps have been competing for your attention. Let's see what new features are available with each one of these apps listed below.
1) Whatsapp
Whatsapp is planning on bringing several new features. Pretty soon Whatsapp users will be able to change their contact numbers without losing chats and other data. You would also be able to notify your contacts about the change. When you change your number, Whatsapp will provide you with three options. You can choose to keep the new number a secret. You can share the new number with everyone or you can share the number with the contacts you have chats with. Whatsapp could soon be giving out your live location to your friends and family who want to constantly stay in touch with you. The 'Unsend' feature Whatsapp team is currently testing will allow users a five minute window to unsend a sent message. There could be new shortcuts for formatting texts in the offing.
2) WeChat
WeChat's Wallet interface now has Mobile bike-rental feature. Users of WeChat can now unlock a bike with the help of WeChat's scanning function. They need to scan a Mobike's QR code with the help of their cellphone and they can get the bike to use. Mobike's bike rental service can also be used with the help of mini app, the lighter version of WeChat, which has been available for the users since January.
3) Google Allo
There have been a few interesting updates with Google Allo too. It now has file sharing feature. All android users can use the Google Allo app to share files in different formats. Currently you can share .pdf, .docs, .apk, .zip and .mp3 formats. Google Allo could soon have a backup and restore feature which would allow users to back up their chats and restore them. This feature can come in handy when you try a factory reset or try a new device. There is a 'Quick Selfie' feature where there is a camera icon placed next to the text entry field. There will be some more sticker options. Google Allo will also have an incognito mode for group chats, where chat logs will not be recorded.
4) Viber
Viber now has a 'Secret Chat' feature that will make the messages the users send to each other, self destruct after a certain period of time. The users can set a timer for those messages. This feature alerts a user whenever a person they talk to takes a screenshot. It also has a message backup option now. As a Viber user you can take a backup of your messages and store them on Google drive manually. You don't have to be afraid of losing your data.
5) Snapchat
Snapchat now provides a search option to its users. This option will help the user run a search through his photos and videos. It also helps the user in searching events such as local basketball games and cat and dog lovers can search and find their fix of cuteness through search too.
6) Telegram
Telegram is now introducing voice calls. Telegram said its end to end encryption extends to the voice calls too. It is currently focusing on call quality. The company is using AI to work on its quality. Call information such as packet loss percentage, network speed, ping times is all used to enhance, learn and optimize the calls.
7) Facebook Messenger
Facebook  Messenger has a few new features lined up for you. One of its features enables you to react to the messages you receive with the help of emojis. If you want to react with emojis to a message you need to select the message and long-press it. You can then use any emoji from the group of emojis that appears. Messenger also has @mentions feature now. If you want to send a message to a person, you need to add the person's name after '@'. He will get the message as well as a personal notification that a message has been directly addressed and sent to him.
With the help of 'Live Location' feature your friends and family will be able to locate you on map whenever needed. 'Messenger Day' feature helps you add your pictures and videos for 24 hours daily. 'Group Payment' feature enables you to send and receive money to your friends in group chats. There are new chat extensions like Spotify, Apple Music and Aeromexico. Virtual assistant M is integrated further into the app.
In the recent F8 Conference, Facebook announced that it has added a bot discovery tool to the new updated Facebook Messenger platform 2.0. A 'Discover' tab in the Messenger App will give you access to bots and will help you find them too.
8) Skype For Business
Microsoft has announced new features and partner solutions for Skype for Business. Let's discuss some of the features that are to be added soon. 'Call Queues' feature enables transferability. It routes incoming calls to the next available live attendant. The calls are routed in the order they are received. 'Call Analytics' (in preview) is a new dashboard that provides inputs to IT administrators that help them identify and address user call issues like network or headset problems. The dashboard provides rich telemetry data in real time that helps in addressing support enquiries and in troubleshooting issues. 'Auto Attendant' feature supports an automated system that helps in answering  and routing inbound calls with the help of speech recognition and inputs from dial pad. New Skype Rooms System Solutions will soon be available from partners like Creston, Logitech and Polycom. By using these solutions you would be able to connect your existing video conferencing devices to Skype for online meetings.